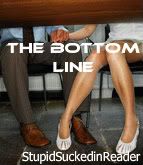 I could've swore that I have written the funny for this post before, but sadly my brilliance got lost somewhere so you will all have to suffer with this:
Why did I start reading this fic?
Well, because of the authors username of course! I mean WHO can resist something when the author's name is as awesome as stupidsuckedinreader!!! It just screams funny snarky, silly person.
Annnnnnnd that is what we get.
Bella is a hard worker at bigbad corp. Yes, the company name is BIGBAD.
Cracks me up.
And she is granted the opportunity to be in charge of someone!
OHHHH a promotion, yay! She is finally being taken seriously for her hard work. Of course her subordinate ends up being none other than
The incredibly hot and delicious EDWARD
OHHH my the sparks fly in the office. How will they deal with that?
What about reverse sexual harrassment or whatever the PC people are calling it when someone of the female persuasion wants to hit on the lower rung of the ladder hot maleness??
How will they get past the, of course, forbidden nature of the relationship when they are hot for each other ?
Well, you will have to read it to find out!
Check out my interview with this incredibly amusing and snarky writer!
~~~~~~~~~~~~~~~~~~~~~~~~~~~~~~~~~~~~~~~~~~~
Where did you get the idea for this story? What was your inspiration?
The idea/inspiration started with a really hot rotationer who worked in my office. Sure, I'm married, but I'm not dead. The boy was totally hot, hence the Edward was born. The rest came from The Wall Street Journal/CNBC. Actually, a lot of my inspiration, especially the corporate America parts, comes from my real life – annoying co-workers, impossible bosses, cute guys in the office, and that one office friend who helps keep you sane. I work for a Big Bad Corporation it is wonderful and horrible at the same time, but mostly the latter.
The Rosalie character is a combination of attorneys that I do know in real life. Yes, I know an attorney who works on contracts for porn stars and I do like to go to the Chanel counter at Henri Bendels for make-up. Certain events about people are from things I have read in articles or heard people talk about.
Is there anything you would want readers to know specifically?
I have a hard time with fiction so I either over-research or I write about things I know or experienced.
Why should readers read your story?
The humor. I try to keep jokes, funny business words, and inappropriate internal thoughts throughout. Even in the angst-ridden parts, I like to sprinkle in some humor. Okay, a lot of humor. I mean Rosalie is an attorney, sure that's been done but a 30 year old virginal attorney who does the contract work on porn movies? That is funny. Oh and my Edward is mysterious with very contemporary problems that I think will shock a lot of readers.
So you do anything special while writing a chapter like listen to special music, need total silence, eat a bag of M&Ms, drink heavily, whatever…?
I usually write while my husband is watching TV so usually it is NCIS, Criminal Minds or House.
What do you do after you click the submit button for a chapter?
Hide. Actually I usually keep reading other stories. I love reading.
Do you have a soundtrack to your stories?
Yes – for The Bottom Line it's a mix of Lily Allen, Morningwood's Three's a Crowd, and Joan Jett
What actor/actress do you picture as YOUR Edward and Bella?
For Edward it would be a cross between Ed Westwick (Chuck from Gossip Girl) and Robert Pattinson (especially the new pictures of him in Details and Vogue). For Bella, I hadn't really pictured anyone maybe a little older Kristen, I hadn't really thought about it. I just fantasize about Edward (shh, don't tell my husband)
"Her Edward is a cross between these pics of Rob with a little dash of Chuck"
Is the story all planned out or do you do it as a fly by the seat of your pants thing?
I have an outline. It is not in stone but outlining gives me something to do during boring classes. Nothing is in stone and I add as bad stuff happens to me at work. Like adding a scene where Bella has to deal with calling the overseas helpdesk.
Do you have a posting schedule? If so what is it?
No. I wish I did but I post when I get a chapter back from my beta.
Do you believe in HEA?
Yes – to an extent. HEA doesn't have to mean tying everything up with a neat bow. Marriage, babies, grandchildren sitting on a swing enjoying the sunset years. That is fine for some fics, but I like when it is HEA for that character.
(Q courtesy of Mels) Give us a Random Fact about yourself
I share a name and birthday with my SIL. It is kind of strange, especially because we go to the same doctors.
Give me a list of your current projects AND do you have any more fic plans in the future?
Besides The Bottom Line, I also write the following:
Over, Under & Through
. Its a NM AU featuring a friendship between Lauren and Bella. It's really not as scary as it sounds.
I also am continuously adding one shots of Bella Swanstein and Edward Cullenman aka the Twilight characters gone Jewish.
Eight Nights of Delights
I am currently planning a wedding mini-fic of these two.
I have started to do more contests and I also want to do a fic where Edward and Bella are MBA students, perhaps.
What brought you to fanfic? To Twilight?
Twilight sucked me in; I couldn't get enough of it. I wanted to read deleted scenes anything and after much initial resistance, I finally got sucked into fanfiction.
What is your background in writing?
I kick butt at business writing. You want a concise email effective communicating the proper message to the target audience; I rock at that.
Creative writing? I was News Editor for my high school newspaper. I didn't like fluff. Just the facts, Jack. I haven't really written anything beyond technical requirements in the past few years oh and essays for my MBA application.
OK FANTASY TIME
If you could have 15 minutes with any Edward FF or SM's, which one would you choose and would you do? (If you do not LIKE any of the Edwards, feel to substitute an actor here: Rob, Kellan, PFach, or Jackson.)
Fantasy? 12/13 year old me would love 15 minutes with Edward from
Introduction to Swirl and Daisy
. He is too cute being a little entrepreneur. We'd probably end up discussing the economy or computers, because I was kind of a dork back then.
What is your FF pet peeve?
If a song, movie or event is referenced it needs to be in the timeframe of the story. Like a story taking place in the 1980's and the characters referencing Lady Gaga. Preposterous. Absolutely preposterous. That is just an example I made up. I don't actually know of a fic that takes place in the 1980's that refences the Gaga.)
What is your Fandom pet peeve?
People hating on one another; it is coutner-productive. If you have all of this negative energy get some Prozac or Zoloft or something, volunteer, take a walk, exercise, heck, get laid. If you don't like; don't read it.
Which character do you identify with the most?
I love to shop like Alice. Yes, love to shop, it's like my sport, but I am also clumsy like Bella. How? Let's see, I have slipped on dog poo, slipped on a curb in the rain, tripped wearing flats while walking on carpeting. Yep, I pretty much failed Walking 101.
Any character who would you like to see yourself with? Either as buddies or more?
Emmett. He reminds me of my guy friends and frat boys I used to hang out with. The kind of guys who don't look at you cross-eyed if you use words like pussy and twat.
Which RL author inspires you?
This is tough, I don't get to read books for fun too often anymore. The guys who wrote my Valuation text book are pretty kick ass. Also, the people who wrote my finance text book did a great job; I finally understand the debits and credits stuff now. You all probably hate me right now. Also The Goal: A Process of Ongoing Improvement by Eliyahu M. Goldratt and Jeff Cox is a great way to learn about operations and process improvement.
All joking aside, my mentor gave me this book: Nice Girls Don't Get the Corner Office: 101 Unconscious Mistakes Women Make That Sabotage Their Careers by Lois P. Frankel and I recommend it to anyone trying to climb that corporate ladder.
Did any FF authors inspire you?
So many: AngryBadgerGirl, ItzMegan73, EliseShaw just to name a few.
Any recs for us?
To Fear the Dark
by LouderthanSirens She writes this more like a movie so it is very easy to visualize; it's sexy and scary
Thinking of Bella's I like, I love LittleSecret84's Bella in the
Brown Study
. She reminds me of me in high school.
If you could ask any Twilight Cast member a Question who would you ask and what would your question be?
I would ask Catherine Hardwick if she went to film school and if they want their degree back because of the superfluous amount of 360 shots in Twilight. (I may also punch her in the face for some of her directing, or lack thereof in Twilight. I have anger issues, I am working on them.)
Anything else you would like to add?
I hope this interview hasn't scared anyone away. Who am I kidding? I'm going to go hide now.