AHHHH classic movies... I love them!
So while chatting with several girlies on Twitter I found I am NOT ALONE, so we came up with this contest!
And now the contest is complete and I proudly would like to officially present
THE WINNERS
It was very hard to choose just 3. We had 14 wonderful entries and I encourage anyone who is interested to please check them out and leave love to the authors.
I will now do the countdown of the winners and they have graciously answered my Qs because, you know, a post is not a post by SUE without an interview!!!
~~~~~~~~~~~~~~~~~~~~~~~~~~~~~~~~~~~~
OUR 3rd Place winner is AmoreBella. This lovely new author wrote us a little diddy based on one of my FAVORITE movies called
His Girl Friday.
If you have not see it DO because it has some of the greatest sexual tension and snark and fabulous banter that old movies provide!
Based on: His Girl Friday (1940)
Summary: In His Girl Friday, Walter and Hildy are set free when the reprieve for Williams shows up. In this take the mayor and sheriff have two options, one ending in a happy outcome while the other does not. This is what would have ensued as well as the resulting conversation of truths and emotions. BxE, AU-AH, M rating.
What was your reaction when you found out you won?
Shock. Disbelief. I think I teared up a bit too. Then, since I was at work, I sucked up the tears and was absolutely giddy for the rest of the day. I downloaded the banner made for me and was excited because the lettering matches my tattoo on my wrist almost to a 'T'.
What inspired you to write for this contest?
I wasn't really inspired to write for the contest. My friend asked if I was entering, suggested that I should, and then I took a "sign" at the library as an omen and make a decision to do it. I was perusing the shelves of DVD's and saw "His Girl Friday" among the titles. I watched it, took notes, hated it, then fretted over how in the hell I was going to write from it. So inspired? No, just headstrong about following through on decisions.
What would you say is the best thing about O/S contests?
This was the first o/s contest I've ever entered so I honestly don't have a real opinion about what's the best about them. I do like that there are different perspectives and ideas for different stories though in all of the entries.
~~~~~~~~~~~~~~~~~~~~~~~~~~~~~~~~~~~~~~~~~~~~~~~~~~~~~~~~~~~~~~~~~~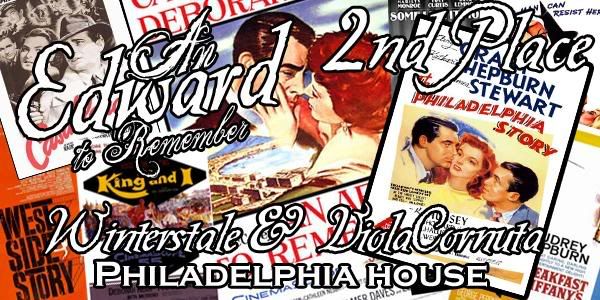 Our Second Prize winners went away with not only a fantastic banner made by the lovely and talented Emerald_Rosalie, they also snagged 2 calenders: a New Moon one for _______ and a Robert Pattinson one for ______ they should be getting those in the mail from Gia soon ...
They choose the movie
The Philadelphia Story
- another fabulous example of wit, banter and sexual tension with a happily ever after ending. This comedy is another MUST SEE movie for those who are looking to learn more about classic films! Here they each tell us their inspiration behind this fic
Based on: Twilight by Stephenie Meyer and The Philadelphia Story by Philip Barry
Summary: 2nd Place Winner! An Edward To Remember - Classic Hollywood Romance Contest. Based on The Philadelphia Story 1940 . There's a lot going on at "Philadelphia House" this weekend, as the household prepares for the wedding of younger son Edward Cullen.
What was your response to winning?
Oh my gosh, Gillian and I were on the phone immediately, fist bumping and squealing! Her husband got in on the excitement too. It was a real celebration after waiting for two weeks and checking the contest page every day.
We're so pleased that both the readers and the judges liked our story. It's a nice affirmation of what we love to do for fun and I know we'll be collabing again soon!
What inspired you write your o/s for this contest?
Vi sent me a link to the contest and suggested it might be something I should try just before I emailed her to suggest she give it a whirl. I love the way Vi writes and am constantly devising schemes to get her to just write for herself. I think she's brilliant with characterization and dialogue.
We discovered The Philadelphia Story was our mutual favorite old movie and fan girled over Jimmy Stewart and Cary Grant. Suddenly we were off and writing, cracking each other up and plotting like old Southern biddies.
What is the best thing about writing for O/s Contests?
I have a love/hate relationship with word count. It does force you as a writer to have tight control on your narrative which is hard for me. When I can control my need to backstory everything with psychological detail and have a dialogue tag for every single part of a conversation, my writing gets much more direct and I can play with dialogue and plot much more.
Both of the contests I've been part of were collabs and were so much fun. It does become an opportunity to play to each other, as much as to the reader. I've been really pleased that both of the collabs I've worked on with Vi, as well as the collab where we worked with my other Beta Gasaway Alley and Rosabella75. They're just a fun way to see into someone else's creative process and get the others creative rocks off with these characters we all know and love.
What was your response to winning? (this should be funny since you guys just found out NOW LOL)
Squeals! Delighted phone calls and emails! The only thing I've ever won before was an etiquette book at a bridal fashion show, and that was a raffle prize.
What inspired you write your o/s for this contest?
When I read ABG's early January update of 'Naked Guy', around the same time Jenn and I and two other friends had just completed collaboration for a Christmas contest, I saw the announcement of the Classic Movie contest. I sent the link to Jenn and said "this is right up your alley". We started emailing back and forth even more explosively than usual about The Philadelphia Story being our favorite flick. Jenn felt she couldn't see Bella as Tracy; I said let's flip them and make it contemporary. She opened a google.doc and we were off!
What is the best thing about writing for O/s Contests?
I like the prompt coming from another source, as an entire plot is often hard for me to come up with. I can envision finite scenes easily, but I'm not Jenn or any of my other 'beta clients' (I have six)--I don't see a whole series of chapters laid out. My role in this fanfiction world is as a fixer and an editor; I'm too shy to write alone. I love the opportunity to collaborate--it's like good sex, you can't tell where one partner ends and the other begins.
~~~~~~~~~~~~~~~~~~~~~~~~~~~~~~~~~~~~~~~~~~~~~~~~~~~~~~~~~~~~~~~~~~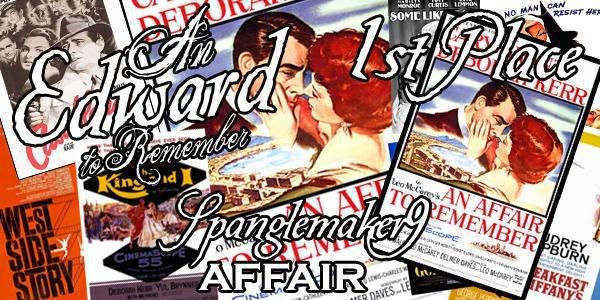 FINALLY we have our first place winner. Her prizes were a 50$ gift card to Amazon.com AND a 50$ donation in her name to the charity of her choice. The ever fantastic Spanglemaker9 choose Alex's Lemonade Stand as her charity!
She choose for her story inspiration movie
An Affair to Remember.
Many will recognize this movie because of the popular film
Sleepless in Seattle.
Here Spangly tells us about her experience and why she choose to join in the group of talented authors who wrote for our pleasure!
Based on: An Affair to Remember
What was your reaction when you won?
Absolutely surprised and very flattered. I read the other entries and there were some very good one shots entered. I didn't think I had a chance!
What inspired you to write your O/S for this contest?
As soon as I heard about it, I knew what I wanted to write. An Affair to Remember is one of my all-time favorite movies. I've seen it a million times. I just love the last scene, the back and forth. The characters are both so vulnerable and hurt and trying so hard to hide it...it's just overflowing with dramatic tension. And Cary Grant's character was just waiting for an Edward makeover. It had to be done!
What would you say is the best thing about O/S contests?
I like the format of a one shot. You can explore the characters and play around with the dynamics between them without the huge time commitment of a full-length fic. Contests are great because you get to see all the really creative ways different writers approach the same idea.
~~~~~~~~~~~~~~~~~~~~~~~~~~~~~~~~~~~~~~~~~~~
AND there you have it folks! the winners of An Edward to Remember. I was happy to be part of this and loved it really. I read all of the O/Ss that entered and I am not kidding there are some fantastic ones. So get out there and READ!!