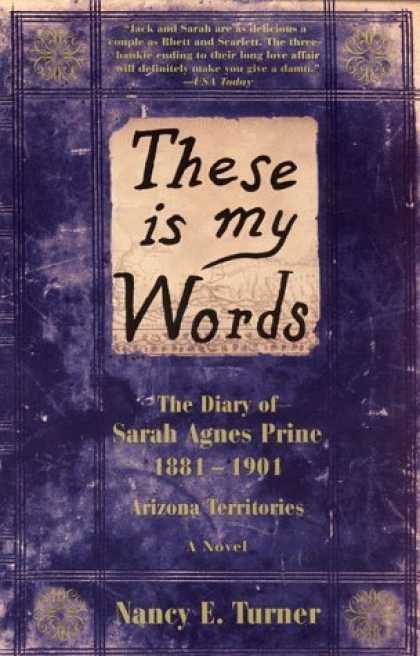 Inspired by the author's original family memoirs, this absorbing story introduces us to the questing, indomitable Sarah Prine, one of the most memorable women ever to survive and prevail in the Arizona Territory of the late 1800s. As a child, a fiery young woman, and finally a caring mother, Sarah forges a life as full and fascinating as our deepest needs, our most secret hopes, and our grandest dreams. She rides Indian-style and shoots with deadly aim, greedily devours a treasure trove of leatherbound books, dreams of scarlet velvet and pearls, falls uneasily in love, and faces down fire, flood, Comanche raids, and other mortal perils with the unique courage that forged the character of the American West. This action-packed novel is also the story of a powerful, enduring love between Sarah and the dashing cavalry officer Captain Jack Elliot. Neither the vast distances traveled nor the harsh and killing terrains could quench the passion between them, and the loss and loneliness both suffer only strengthen their need for each other. While their love grows, the heartbreak and wonder of the frontier experience unfold in scene after scene: a wagon-train Sunday spent roasting quail on spits as Indians close in to attack; Sarah's silent encounter with an Indian brave, in which he shows her his way of respect; a dreadful discovery by a stream that changes Sarah forever; the hazards of a visit to Phoenix, a town as hot as the devil's frying pan; Sarah's joy in building a real home, sketching out rooms and wraparound porches. Sarah's story leads us into a vanished world that comes vividly to life again, while her struggles with work and home, love and responsibility resonate with those every woman faces today.
How is this for a change in roles? Jeannie recs you a fic and SUE recs a real book with pages and everything! Well that is what is happening today.
A while ago Autumn (you may know her from some of her book recs here) told me about this fabulous story called These Is My Words. The way she was describing it I knew I had to have it! Being the fabulous friend she is Autumn actually sent me a copy of it. I started it the day after it came in my mailbox and did not put it down except to sleep (at about 2am).
This is the story of Sarah Prine. It is a fictionalized version of the life of a real ancestor of the author.
We all have those relatives who live more in legend. Great great grandmothers and grandfathers that are bigger than real life. They live on in the family stories told about them around kitchen tables and at family gatherings. This is how our heroine comes to life. She is the product of a writing assignment given the author in a creative writing class.
Our story begins 1881 when Sarah is 17. Her father decides to move the family from their home to start a new horse ranch in a new territory. Travel then was treacherous and rarely did people make it out unscathed.
Our leading lady wants to be gentile and sweet like her mother and sister in law she does not realize that her strength is something all those around her rely on including the men in her life. What I love most about this book is it does not focus solely on the romance aspect of her story. A womans life is so much more than just what man she has in it.
This book is told in diary format. You see the daily frustrations of a girl and her struggles with her famil,y brothers - younger and older - her feelings about her parents as well as her views of life on the trail.
This story follows 20 years of this womans life and by proxy it follows her family as well.
Now for the reasons why I think you should go immediately from this page to Amazon (or Barnes and Noble) to buy this book:
1) a leading female that is believable and likeable and realistic
2) a story set in the late 1800s with enough real events to entice the big history nerd in you
3) a leading male character that will make you swoon
4) adventure and angst for those that love pain
5) PLENTY of laughs and silly things for people like me that adore giggles
So there you have it, a lovely story to get lost in. I hope you enjoy it as much as I did don't forget to tell me what you think!