WOW. I had no idea when I tweeted about this that I would get SUCH an overwhelming response! My inbox flooded with messages, my @replies filled with links, before I even got the post about the
Rules
up.
SO for those of you who have NOT made it in this post, NOW HEAR THIS:
This will be a regular feature on the blog.
In order to make it here I need you to follow the rules from the first post.
1) Answer the Questions
2) give me a link
3) give me a visual (I can be bought with pretty!)
OK Girlies AWAY WE GO !!
~~~~~~~~~~~~~~~~~~~~~~~~~~~~~~~~~~~~~~~~~~
SUMMARY: Edward was investigating the perfect murder. Part of his job was to protect the only witness's identity from the murderer. But can he control his feelings for her, and can he handle the secrets she hides?

WHY should I (the reader) read your story?
I think my story is very different from others in the way that it is a love story as well as a mystery/psychological thriller. So much research and time has been put into this story because I'm trying to make the details accurate. I also encourage my readers to give me their own theories, which helps keep the suspense going. I really like the relationship I've developing between my Edward and Bella, and I think others will enjoy it too. It is also a great psychological ride!!

Where did you get inspiration?
I have always been into forensics and the study of the human mind. I think a great story is one that keeps you guessing, but also makes you feel for the characters. Because I enjoy these kinds of stories, I decided to try to write one of my own, and Bedroom Confessions is the result of that.

What do you think is the BEST thing about your fic?
I honestly have to say that I think the writing is the best thing about it. I am trying to be much more creative with my words with this story than any other story I've written.
~~~~~~~~~~~~~~~~~~~~~~~~~~~~~~~~~~~~~~~~~~
Summary: Bella has a great life but she's missing something...Will the new Marine in town be that something? AH E/B/J Lemons and Angst all rolled in one plus whats better than HOT MARINES! Oh yeah HOT MARINE LEMONS! Rated M for many reasons!

WHY should I (the reader) read your story?
I think this fic has a little of everything: drama, funnies, lemons, angst, romance.

Where did you get inspiration?
My life, who better to write a fic about Marines than a Marine wife.

What do you think is the BEST thing about your fic?
Marineward...he's amazing, if I do say so myself.

~~~~~~~~~~~~~~~~~~~~~~~~~~~~~~~~~~~~~~~~~~~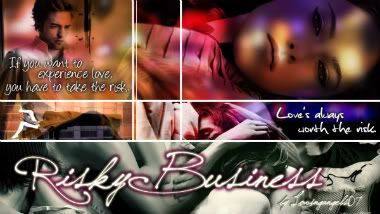 SUMMARY: Bella and Edward are best friends who are dirt poor, living in the slums of Chicago. When Bella gets an opportunity to work in the city's hottest club to help save money to launch Edward's music career, she takes it. AH, Canon Couples.
WHY should I (the reader) read your story?
Because its a little different. Bella and Edward are already bestv friends and this story shows them go to great lengths to prove their
love for each other. It's hot and getting lemony.
Where did you get inspiration?
I was daydreaming and I thought of this one scene (the most pivotal scene in my opinion) and I just had to get it down on paper and the plot and everything just sort of fell in place together
What do you think is the BEST thing about your fic?
I think that it's real and Edward isn't some golden prince.
~~~~~~~~~~~~~~~~~~~~~~~~~~~~~~~~~~~~~~~~~~~
Summary: A week at the beach celebrating Alice and Jasper's upcoming nuptials reunites Edward and Bella for the first time since college. Both are single at the same time for the first time in their friendship. As the group remembers their crazy college years, will E and B realize the chemistry they always had that was hidden by their devotion, at the time, to others? All human. Canon Couples. Emphasis on E/B.
WHY should I (the reader) read your story?
Though my story is new, it is very original and, if I do say so myself, kind of hilarious ;) Underneath the funny and the drinking and the overall hot mess that college was for Edward, Bella, Rose, Alice, Japser, and Emmett, a story of friendship and devotion lies. Shared in Bella's POV, the story takes place in present day with flashbacks each chapter to their years in college. Through the flashbacks, the reader is given an insight into the mind of different characters as they experienced arguably the four most formidable years of their lives. At the center of these flashbacks, though, is a witty banter between Edward and Bella that reveals a connection neither noticed at the time. Unlike most stories, there are no years or pining by either Edward or Bella, but instead a slow realization of bad timing in the past.
Where did you get inspiration?
The inspiration from the story comes from two sources outside of my general obsession for all things Bella and Edward. First, the website Texts from Last Night (it's hilarious, check it out if you haven't) provides me with the prompts I loosely use in each chapter. One day I was reading through the site and the idea just popped into my head, a kind of 'how hilarious could these texts be if there was a backstory to each one? a backstory involving our beloved characters?' And voila, a story was born! Second, some of the stories/events are inspired by either things I, myself, have experienced during my college years or that my friends have experienced and shared with me. The first chapter, Tour de Franzia, for example, is actually an event I have participated in, though the events that happen in the story are embellished. As I have started the spring semester of my senior year, a little bit of melancholy has left me clinging to the sweet and hilarious memories I have. That being said, a lot of the flashbacks in the story are completely fictional. It's up to you to figure out which ones are real and which ones aren't :).
What do you think is the BEST thing about your fic?
It's quirky, it's funny, and it's got a little twist that most stories don't.
~~~~~~~~~~~~~~~~~~~~~~~~~~~~~~~~~~~~~~~~~~~
Ultio
by Mac214 and 22blue
Summary: When is enough truly enough to avenge the woman you love? Retribution consumes Edward's mind body or soul. Everyone will pay - he has no limits. Will Bella? Can she be his salvation - the one who stops him from spiraling to the darkest depths of hell?
WHY should I (the reader) read your story?
The feedback we get from those who read it says it's well-written and unique, full of twists and turns that keep everyone guessing. We're also told it's the darkest of the Darkwards, which may or may not be true. My co-writer and I love to write the story, which I do think shines through - Edward is indeed positively unhinged and with each chapter he loses more and more of his humanity, and yet he retains just enough to keep hope alive that he can be redeemed. The story does feature a very strong redemption arc; however, we're betting the end will be a surprise for everyone!
Where did you get inspiration?
The basic story idea was my co-writer's idea - she was inspired by a song by The Toadies. She asked me to write with her, and we spent a few weeks brainstorming and plotting until we had a fantastic outline. As we write each chapter, we've been inspired by each other and our great group of readers.
What do you think is the BEST thing about your fic?
I love the fact that it spans 30 years and begins with Charlie and Billy, two characters who don't get nearly enough play in the fandom. It's dark and creepy, and we've taken just enough liberties with canon vampires and werewolves to keep it fresh.

~~~~~~~~~~~~~~~~~~~~~~~~~~~~~~~~~~~~~~~~~~~
Summary:
The summer before her junior year in college, Bella moves to be closer to her father. All the while adding some much needed space from her crazed frat-boy ex-boyfriend. Being there for her father comes with the fresh start she needs. (One without men to complicate it) Until, one evening after her shift the most gorgeous man she has ever laid eyes on...comes to her aid. He causes Bella to almost forget the vow she's taken against the opposite sex. Almost. That is until the realization that he's a frat boy and she's never going there again. No matter how those intense green eyes make her feel.
What will happen when Bella transfers to the University of Washington and meets a handsome coed, Edward? Will she find peace from her past or be stuck playing the part?
WHY should I (the reader) read your story?
I really think that you'd enjoy it if you want some UST, a touch of angst, a mystery stalker and then some RST between Bella and Edward with Charlotte and Alice and Angie as the best friends. I try to make it funny and sweet but still sexual with the hint of trouble along the way.
Where did you get inspiration?
I've been writing poetry for a long time and wanted to write a fic after becoming attached at the laptop to ff and Twi, so the hubs suggested I sit down and figure out what I'd like to read about, I wanted to incorporate something past high school and all the fun/stupid things you do as a young adult with some lemony action and a HEA
What do you think is the BEST thing about your fic?
I love the relationship that Bella has with Charlotte--as her best friend/roommate and with Edward. I like that she's not mild or meek and she can be kind of a bitch and that she made Edward work to be with her. RL is not always love at first sight or hopping in the sack moments after you meet. Even though I do enjoy reading those fics too ;)
I hope that I've convinced you to take a look at my story, and that once you have....you enjoy it. I have to give Julie big kisses for giving you this idea and encouraging me to send it to you, she's such a sweetheart.