MySpace Playlist
at
MixPod.com
Welcome once again my dear friends to Teas with "Rob" hosted by our very own Lady Tater
As you know we take your questions throughout the week and Lady Tater works the dear boy over to give you these lovely answers!!
ENJOY!!!
Molly asks: What's he gonna do after I molest him in 2010?
Our lovely boy quirked a brow, unaware that he had an appointment with molestation penciled in so far ahead. Quickly, he called his personal assistant and was informed that, although it was not formally scheduled, he could well assume that indeed he would be molested in 2010. He just shrugged, put the phone back in his pocket and looked at his lap for a moment before answering that he would likely have a cig and then take a nap.
Sue asks: What is your Halloween Costume?
Our young lad smirk and simply answered, "A hobo, apparently"
I rolled my eyes, pointing out that one was not supposed to wear their own clothes to a Halloween ball, so he asked me for a suggestion. I quickly pulled the figleaf from my bag and dangled it on the end of my finger. "Ever thought of Adam?"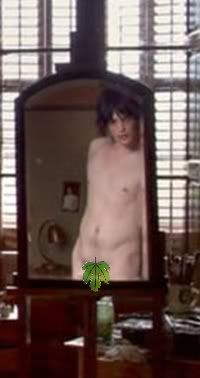 1. Now that you'll be travelling to promote New Moon, are there any creature comforts you like to have with you to make wherever you are feel more like home? If not, I could make you something--knit you a teddy...wear a teddy...knit a tea cozy...knit you a ball cozy. You know, whatever.
Unconsciously, he palmed the Cardinals and shifted in his seat for a moment, obviously imagining the comfy warmth of the ball cozy. I smiled, patting his hand and informing him that the question came from his AngryBadgerGirl. Instantly, he smiled and advised me that, wherever he roams, he insists on Hot Pockets, Stoli, bottled water, a cock ring and she should wear the pink one.
2. Some startling revelations have surfaced regarding some photographs belonging to you that could be classified as pornographic. Do you have anything to say about that?
The boy smirked at my obvious annoyance with this question. I pulled out said photograph (see below) and he chuckled. At that, I chastised him for leaving photos of me lying willy nilly about the place where they could be leaked to the press. He begged for forgiveness when he realized my ire but no amount of words would quell my anger at exposing me like that. Instead, I turned him over my knee and spanked him until he came on my thigh.
I sighed, forgetting that particular punishment was counterproductive with our lovely child….
3. Is it true you harbor a secret fixation on small predatory weasels with sharp teeth?
An enormous smile lit our pretty's face when he recognized the meaning of his questions. He answered that he preferred badgers and kitties. And badger's kitties….
Sue's Q give us the story of you lost your virginity:
The dear, sweet child blushed furiously, shifting in his chair and blinking. Obviously uncomfortable, we took a bit of a break for a little Bishop worship including a short game of lick the Cardinals and he relaxed significantly. Sighing and slumping back in his chair, he lit a cigarette and opened his sweet mouth as I dabbed at mine with a handkerchief.
Apparently, at the relatively tender age of fourteen, one of his sisters had friends visiting with them at their family home. He had stolen quietly to the den because one of said friends was quite attractive and he wanted to see if it was true that when women got together, they stripped down to their bras and panties and talked about naughty things. I sighed, shaking my head and thinking 'of course they do, silly child'. It was not long before he realized that ladies could, indeed, be just as tawdry as men and he found himself painfully aroused while hiding behind the couch.
As he decided to creep back to his room to play a rousing game of Spank the Bishop, he had the misfortune of running, quite literally, into said attractive friend. Of course, by that point, The Bishop was pointing due north in his flannel jammies and he was mortified as he stabbed the goddess with his Sword of Eros, right in the general vicinity of her pink bits.
Rather than run screaming, said miniature cougar grabbed his wrist and nearly dragged him back to his small room, shutting the door behind her. Before he knew it, he had a boob in his hand, a condom on his boy parts and a young lady (read jezebel) bobbing up and down on his lap muttering about the baby Jebus and the size of Snapple bottles. Of course, back then, she only got to play moon bounce for about a minute thirty, but, per our sweet, corrupted boy, it was among the most memorable minute and a half's of his life.
~~~~~~~~~~~~~~~~~~~~~~~~~~~~~~~~~~~~~~~~~~
AND that is it for Teas for this week
Stay tuned next time when Rob will answer these two PRESSING Qs
from Teddi: tell us about your first kiss...
and
From Nikki: I've got a question...can I get a kiss, on my koslopos? 2nd part of my Q. Could he do that growl while he's giving the koslopos kiss. Vibration=happy koslopos
Remember if you want your Qs asked of our dear boy or you want to find out anything ask away you can Tweet me
@Roselover24 off hand I forget Lady Tater's tweeter name I have a good excuse I was up late drinking and talking Fic with people...