AHHHH
Another interview with a super prolific author.
Have you not read her stuff??
Sure you have !!
I mean, if you take my rec's seriously, then you have diligently read everything I told you to... and you would KNOW her writing from one of her other fics:
I honestly forget where I found this story. I am GUESSING I was looking at The_Glory_days' FF.net profile and thought, WOW that sounds cool!
But at this point... who knows!
And who cares cause I found it, and I read it, and I like it, so I am recing it to YOU.
When Edward Cullen is killed in a car accident, it's Bella Swan who finds herself helping his ghost find out why he died. All-Human, AU, A Twilight Retelling.
Twilight - Rated: T - English - Supernatural/Romance - Chapters: 18 - Words: 81,428 - Reviews: 970 - Updated: 10-3-09 - Published: 7-20-08 - Bella & Edward - Complete
So why do I like it?
It has this fantasy element to it that is sweet.
Edward gets killed off in it.
WHAT???
Edward is *gasp* dead??
YUP.
He's dead, and not a vampire.
When he is in the sun, he does not sparkle.
Weird right?
But worth the read for a neat little mystery.
Will Bella find out WHY she can see him and no one else can?
Will Bella find out what she is supposed to do ?
What happens when...? Oh, heck! Go read it! Good fic, neat mystery, fluffy tale with some touching stuff thrown in.
Here is my interview with The_Glory_Days.
One neat thing you will notice is THIS was her first story EVAH!
~~~~~~~~~~~~~~~~~~~~~~~~~~~~~~~~~~~~~~~~~~
1. Where did you get the idea for this story? What was your inspiration?
The idea for In Another Life came from watching Ghost and Just Like Heaven, one too many times. lol I can't help it, Mark Ruffalo is so cute! :)
In Another Life was the first Twific I ever wrote, and when I started it, what I wanted to do was rewrite Twilight with Edward as a ghost, but still have it feel like Twilight. That's why I include direct dialogue from the book. I wanted it to feel like you were almost rereading the novel.
2. Is there anything you would want readers to know specifically?
About the story? I don't know. I would say to watch out for clues and to try and pick out the original Twilight dialogue.
3. Why should readers read your story?
I hated this question last time, and I still do. lol :D I think readers should read this story because it's like rereading Twilight with a twist (lol), and that's what brought us all here into this crazy fandom in the first place.
4. So you do anything special while writing a chapter like listen to special music, need total silence, eat a bag of M&M's, drink heavily whatever …?
I used to munch on some M&M Peanuts, and listen to music while drowning myself in liters of Coke Zero. Now it's M&M Almonds, listening to music and gallons of Coke Zero. lol
5. What do you do after you click the submit button for a chapter?
I panic! lmao I'm always so nervous when I post a new chapter. My nerves get so frazzled and I hide from the internet for a while.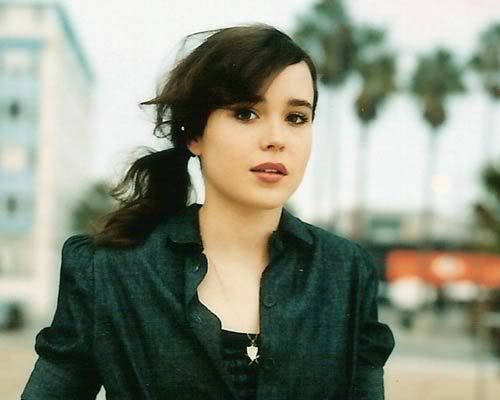 6. Do you have a soundtrack to your stories?
Not all of them. AW had a playlist and so does In Another Life.
7. What actor/actress do you picture as YOUR Edward and Bella?
In this story, IAL, my Bella would be Ellen Page, hands down. My Bella in IAL is spunky and funny at times and I think Ellen definitely encompasses that. My Edward for IAL would be Matthew Gray Gubler. Though he's much too old for the character, he definitely posses the characteristics of this Edward. Plus, he's just so damn adorable.
In general, my Edward is a mixture of Rob and Jackson. Looks wise I think a combination of Kristen Stewart and Ellen Page would be my perfect Bella.
8. Is the story all planned out or do you do it as a fly by the seat of your pants thing?
Sort of. IAL was planned out in the sense that I followed along with the Twilight novel, but mostly it was done on the fly, though I had a simple outline of what I wanted to happen, especially the ending.
9. Do you have a posting Schedule ? If so what is it ?
Well, IAL is complete, but I hope to start writing In This Life, which is Edward's POV of things. There are a lot of times in the story when Edward disappears for a while. In ITL, you'd get to see where he goes.
10. Do you believe in HEA?
Oh man, I answered this question last time and nearly got my head taken off by people. :D I don't believe in HEA, but I do believe in a realistic happy ending of sorts.
11. Give me a list of your current projects AND do you have any more fic
plans in the future?
In the works, I have Mail on Sundays, Dirty Little Secret, and In This Life.
12. What brought you to fanfic? To Twilight?
Harry Potter. I did a Google search of Harry Potter and stumbled upon fanfiction six years ago, and have been sucked into it. I blame my freshman year roommate for getting into Twilight. I actually had to wait for the release of Eclipse! lol
13. What is your background in writing?
I've always written. My mother still has all the stories I've written since I was four, somewhere in the basement. The first thing I ever wrote when I was 4 was a story about me being best friend with the Ninja Turtles. Haha, I kid you not.
FANTASY TIME
14. If you could have 15 minutes with any Edward FF or SM's, which one would you choose and would you do?
If you do not LIKE any of the Edwards, feel free to substitute an actor here, Rob, Kellan, PFach or Jackson.

Edward from The Blessing and the Curse. I just want to get into his head. I would spend the fifteen minutes trying not to swoon and hearing him talk. He's such a complex character and I think I would really enjoy getting to know him better.
15. What is your FF pet peeve?
Summaries. lol What an odd thing, right? I want a summary to tell me what I'm getting into. It's not like I'm not going to read your story if your summary is just quotes from your story, but I would like to know what the journey I'm about to embark on is about.
16. What is your Fandom PetPeeve?
I would have to say the way people gang up on each other. I know that some people will like one aspect of something and others won't, but there's no need to get catty and attack each other. We're all here because of the same thing.
17. Which character in your fic do you Identify with the most? Any character who would you like to see yourself with? Either as buddies or more?
Bella, for sure. I put a lot of myself in here. I would love to be friends with Emmett. I feel like he would be so much fun to hang out with.
18. Which RL author inspires you?
Christopher Moore. He writes incredibly entertaining, quirky novels, and I try to emulate the way he spins a phrase.
19. Any recs for us?
I'm not reading much at the moment because I have no time, but Bare, TNGUS, Tides, and The Blessing & The Curse are the stories I run to read.
20. If you could ask any Twilight Cast member a Question who would you ask and what would your Question be?
I would ask Jackson, (of course him! lol), if he could only listen to one song for the rest of his life, what would it be and why. I feel like he would have such an awesome and interesting answer for this.
21. Anything else you would like to add?
Thank you all so much for the incredible displays of love you've given me. My life is so stressful at the times, and a simple review that says "good," or a tweet that says "hello," truly makes me smile.