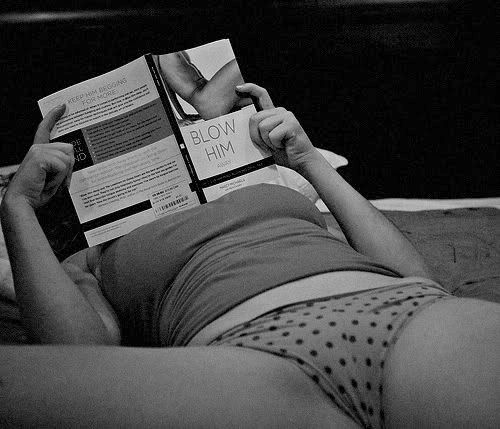 That's what we call "research"
Alright, on Sunday on Twitter my dear friend
JustForkIt
asked the question
"Does any woman actually ENJOY giving BJs?"
Well, for me that was a resounding YES! (and yes we all know that my hubs is a LUCKY man)
So I answered yes to her Q and she said, I was the only one to say that.
I was dumbfounded!
So I asked my pervy followers to tell me if THEY like giving BJs
Oddly enough I only got 2 NOs
hmmm tells you the kinda hoors I hang with....
ANYWHO
I also noticed there were some STIPULATIONS to the fellating (we actually researched that word too, Twitter is such a great place LOL)
YUP dudes, listen up, 'cause CHICKS GOT RULES about the BJ.
Now the girls and I researched this (and by that I mean, we consulted with one another)
Tanja searched for some NON XXX rated BJ pics for this poll (and I was searching long and hard for it... Sorry, couldn't help myself)
and I
Well I consulted the Bible Of Sex
well for me
I grabbed the old copy of Xaivaria Hollander and opened it to the BJ chapter
well, not really...
I am doing this shit from memory
OK FIRST OFF
Boys, if you wanna get blown, keep your whistle clean.
Funky peen does not get kissed PERIOD.
SECOND
Know what your baby loves.
Some chicks like you to guide them
Others say "dont hold my ears, I know what I am doing"
THIRD
Reciprocate. Yeah, you heard me. Just do it and don't bitch about it.
ALRIGHT
Lets talk BJs
There are different types.
I know different positions for this and some guys like certain kinds better than others. What shocked me most in my research is that people actually NAMED these things! I'll be damned! NOW I am not listing ALL of the ones shown. You can go
HERE
TO VIEW THE ANIMATED GIFS
The easiest is you sitting down and him standing. This one, according to the site I visited, is called
LAZY ASS
..... I am kidding, of course this one was NOT listed in the reference guide. lol
Then there is
ATTEN HUT
You on your knees, him standing.
Yet another that is not named, so I shall call it
LAZY WIFE
Him on all fours with you under him is also lovely.
THROAT SWAB( who the fuck came up with these names??)
You on your back, head off the bed, him on knees or standing, depending on how tall your bed is.
THE USUAL
Him on his back you over him
68
Which is 69 without you getting anything.
And so we cum to the all important question:
"To Swallow or NOT to Swallow"
I swallow.
I dont like a mess since I would have to clean it.
Just a shot down the throat, dont taste a thing.
OTHERS do not like to and you know what, that is OK.
Just dont be a show off.
NO GARGLING
That is nasty.
FINALLY... THE all important poll all scientific and such
you all know the rules
VOTE EARLY
VOTE OFTEN
BRING YOUR FRIENDS
LEAVE COMMENTS
NOW I really wanna know what do you enjoy MOST about giving a BJ??