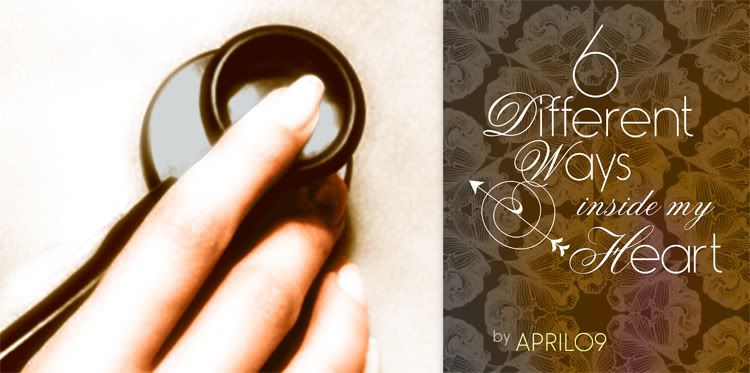 Hello, my sweets! This is Lady Tater, guest blogging for our lovely Commander in Chief, Sue! When asked what story I wanted to cover, I didn't hesitate to blurt out "Six Different Ways Inside My Heart" by april09.
Melanie, the amazing author, is a reader of my fics and we started talking via reviews and forum posts and eventually emails. She told me about her own writing endeavors and being the pushy Lady that I am, convinced her to show me her fanfic stylings and let me be the judge of whether or not they were good enough to post.
I received the first chapter in my email inbox and was utterly, completely, blown away.
Here is Melanie's summary of her story:
A story about love, about death, about keeping secrets, and dealing with the consequences. Bella and Edward meet at a hospital when she is diagnosed with a life threatening disease and he is recovering from knee surgery. She confides her fears to him; he changes his life because of her. This is a story about their journey through the confusion, awkwardness, pain, and beauty of first love.
My summary (after my jaw snapped shut from reading the amazing writing): This is a really different, unique story about an extremely sick Bella who meets a seemingly well Edward in a children's hospital. The spark between them is instantaneous, but their life circumstance keeps driving seemingly insurmountable wedges between them. Edward is … gah… Romanticward at his finest, but he's obviously *not* telling Bella everything. Bella is strong willed and a little feisty and so amazingly brave. It's beautiful and painful and I never, ever read a chapter without feeling… completely affected… by her words and her story.
Melanie tells this story with the knowledge of a physician (which she is), the heart of a romantic, and the soul of a true writer. If you are not reading this story, then you haven't experienced one of the single best AH fanfics I have ever read.
We interviewed via email in regard to her story, and this is what she had to say…
1. Where did you get the idea for this story? What was your inspiration?
After dealing with the death of my second daughter earlier this year, I thought about a lot of parents and patients I met when I was a resident (I'm a pediatrician), especially the frequent fliers, i.e. chronic patients. The more I thought about it the more I thought about different characters who met at a hospital because they were there all the time…the story just sort of formed itself.
2. Is there anything you would want readers to know specifically?
Just that these characters aren't based on real patients, LOL.
3. Why should readers read your story?
Just because it's different from other FF….actually that's what made me hesitant to post in the first place because I wasn't sure if anyone would read it, but then I thought I needed to be true to myself as a writer and just write what I write. And while this story is different from my regular writing as well, I think it reflects me at the same time.
4. So you do anything special while writing a chapter like listen to special music, need total silence, eat a bag of M&Ms, whatever…?
I like to hang out at cafes while my daughter is at preschool…at home I need it to be quiet or I listen to the same CDs over and over. For this story, I've mostly listened to The Cure, The Smiths, David Gray, Cowboy Junkies, Bob Dylan.
5. Do you have a soundtrack to your stories?
Not really, though some chapters have certain song inspirations.
6. What actor/actress do you picture as Edward and Bella?
For Six Diff Ways, I guess I picture Rob as Edward, but Rob in the VF photo shoot, not in the films. In the films he's too pale and clean cut (yes, I know it's because he's a vampire…) For Bella, I'm not sure who, but not KStew. (nothing against her, just don't picture her as this Bella)
7. Is the story all planned out or do you do it as a fly by the seat of your pants thing?
I have the overall story planned, but there are a lot of scenes that just come to me during the writing process. The more I write, the more I realize that I don't know what's going on….that's what I like best, when the story takes control.
8. Do you have a posting Schedule? If so what is it?
Not really. I'd like to post once a week or so, but now that I'm caught up posting, it just depends on how fast I write.
9. Do you believe in HEA?
Yes, definitely, in fiction. And, it may not seem like it right now, but there will be some sort of HEA for Six Diff Ways. (note from Lady Tater: Oh thank the baby Jebus)
10. Any more fic plans in the future?
Yes, I've started a few…but I don't want to post unless I'm certain I'll finish them so likely won't post until I'm further in the stories. I have a reality TV show storyline that is running around in my head and that I've actually started. I also have an original novel that has been neglected for many years but I can't seem to work on right now for personal reasons.
11. What brought you to fanfic? To twilight?
My book club (a group of girls I did residency with) read it last November to coincide with the film opening. I still didn't read it in time because I kept thinking "why do I want to read a book about vampires?' They all insisted that it was a love story and terribly addicting. After we discussed the book, I was intrigued, but didn't start reading until I was on self-imposed bed rest for my pregnancy in January. I read the series through three times before finding FF. I like to say the Twilight saga and FF helped me through the toughest year of my life.
12. What is your background in writing?
I double majored in English/Creative Writing and Biology in undergrad, and I also have a Masters in Creative Writing. To be honest, my writing has been put on hold for several years and I just got back into it this year.
13. Have you had any twilight related/ rpattz dreams?
Um, none I would admit to….but I do have to say that sometimes I dream of certain scenes for this story or the words just come to me if I wake up in the middle of the night.
14. Which character do you see yourself as? And who would you like to see yourself with?
I'm not really any of these characters…If I had to choose one to BE with; however, maybe I'd say Emmett because I like his lightheartedness and dimples. Oh, and can he look like Kellan Lutz, please? Edward is too emo and brooding, but my high school self would totally have gone for him.
15. Which RL author inspires you? Did any FF authors inspire you?
Jane Austen, Sandra Cisneros, Sherman Alexie, Toni Morrison, John Steinbeck
In FF, (also see below in recs) in.a.blue. bathrobe's Tropic of Virgo is so beautifully written and lyrical that it made me want to start writing again. Angstgoddess impressed me in Wide Awake with her depth of character.
16. Any recs for us?
There are WAY too many FFs I would rec! If I had to choose, for AH I'd say that Gondolier's Hydraulic Level 5 and your (pomme_de_terre aka Lady Tater) collaboration with venomousgal (Becomes the Swan) are two stories that completely own me.
Some wonderful AUs:
Last Rites by Halo Jones
Aegis by mothlights
A Chance Encounter by erinbatt
17. Anything else you would like to add?
Just that I'm so impressed with the ladies that started Fandom Gives Back, and with everyone who donated their time/stuff/money to the cause. It amazes me that the three of them got this idea one day and ran away with it….and suddenly they've raised over $80k for cancer research! <- (another note from Lady Tater – sing it sista! I'm so proud of all of the folks involved)
So there you have it! If you are not reading "Six Different Ways Inside My Heart" then go forth and read, my sweets!