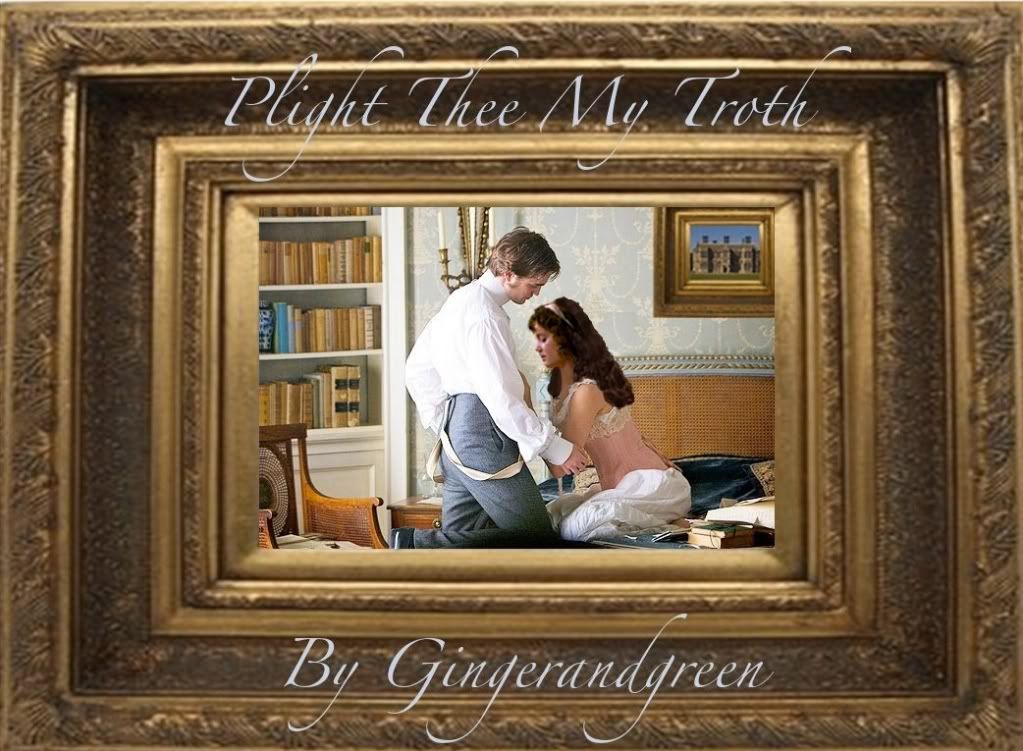 Plight Thee My Troth
England, 1795. Lord Edward Masen and Miss Isabella Swan promise to love one another for all time; but will the harsh realities of life allow two souls from very different backgrounds to fulfil their vows? EPOV, AH
Twilight - Rated: M - English - Drama/Romance - Chapters: 5 - Words: 27,413 - Reviews: 272 - Updated: 10-23-11 - Published: 9-4-11 - Edward & Bella
I was minding my own business just lurking on Twitter and Perrymaxwell said to her followers to read this story. T
he first chapter had just posted and minutes after it was announced I was reading and I am so thankful for the rec.
This fic is set in Regency times. It is told from his POV. We get to see her life from his eyes. He casts himself as her savior. Many readers will not like most of the men in this story because of how they stick with the thoughts of the time period.
You all know why I love historical fic right? Because the cannon characteristics fit best in another time period. I love reading different authors takes on these characters and seeing them put in the various situations in the past.
The more chapters I read the more I know that things in this fic are not as they appear at first and I wonder what our author has in store for us. So far it is amazing and when I get to the end of the chapter I am all sad that there is no more to read
She updates regularly every two weeks. Y
es, you have to wait two weeks in between updates but for a fic this good it is well worth.
You know what to do now. Re
ad the interview, go read the fic and leave her some reviews. Don't forget to come back and let me know what you think as well.
~~~~~~~~~~~~~~~
not who she pictures but it is a neat regency type pic
What was it that gave you the 'spark' for your story? Was it a picture? A
moment or event? Can you remember the initial inspiration?
Writing is how I figure stuff out in my head. For a long time I wanted to write about marriage. I've been married for nearly 21 years, but most of my friends have had very different experiences. I wanted to explore what it was that enabled two people with very different life experiences to form an unbreakable bond.
Setting it in the past allows me to discount the idea of a divorce as a solution to anything – not that our fated pair ever come close to wanting or needing one; I just wanted the option to be completely non-existent. Also, being a Jane Austen nut, I had to set my story when she was alive and writing.
Everything else just comes from the invisible collective imagination. I think there must be a dimension that we can only sense with our unconscious minds, that swirls with ideas and stories and moods and connections; every now and again, we are blessed by having a story settle in our minds like dust on a bookshelf. If we're lucky, we get to pick up the creative dust and use it.
Do you have a particular process when it comes to your writing, perhaps a
certain mood, environment or music? Do you have any 'triggers' to get you in the writing mood?
Not that I've noticed. I seem to be able to write anywhere, anyhow. I started writing in Starbucks while I was waiting for my Oldest to finish ballet class, and I felt so sophisticated and intellectual. Just like a Real Writer. ;)
I wrote explicit sex scenes in the cabin of a narrow boat while my whole family, PILs too, squeezed themselves around me. I think I can pretty much shut out the world and write when I want!
Give us an elevator pitch. Say you're in an elevator with a prospective
reader for 2 minutes – what would you tell them about the story?
I would say that my story is about love and power and the human spirit. It uses the strict mores of Twilight fanfic, historical romance, and the 18th-century to disassemble convention, and examine its impact on two people who love each other beyond the norm.
That's a high aim, and I probably won't reach it, but the journey is the point, not the destination.
Also, if the people in the elevator were Twific aficionados, I would mention that my characters are true to their time, my story and reality before canon. It's not their fault, I made them that way, so please don't hate them. Except Sir Charles and Black – you can hate them, by all means.
Do you picture particular actors for your characters, or are they someone
else entirely? If so, who?
Well, I picture Rob for Edward, because that is who I imagine the majority of my readers picture, and he is very beautiful; but sometimes he morphs into MY Edward, who is not a real person – that I know of.
All the other characters in my head are just characters in my head – they aren't real people. I rarely look at the visual add-ons to fanfiction, because the pictures interfere with my imagination. Cared worked really hard on my banner, because I just wasn't satisfied with images that didn't reflect a realistic view of the time or my story. What a dedicated, patient friend she is.
Is the story all planned out or do you do it as a fly by the seat of your
pants thing?
It's planned, to the extent that I have a skeleton and character outlines. Every time I write or dream, more creative dust settles, and little pieces of story come out of nowhere. Who knows whether I'll follow my plan – I've never written anything as long as this before.
Perry Maxwell is my beta and she is wonderful. She understands my penchant for the passive voice and my over-enthusiasm for commas; she suggests fixes for my awkwardness and challenges my assumptions. I can trust her with my life, and I love her.
I also have a pre-reader, Cared. She is wonderful too. She is from my side of the Atlantic, so understands the language and the historical references. She goes above and beyond, doing research when I ask and telling everyone about PTMT; so many other things, too. She even cheers me up on blue Mondays. I love her.
Have you got any other projects going on? Any planned for the future?
So many projects, so little time.
I work in the field of adult literacy, and I started a Wordpress blog about it. This has been on a short hiatus while my life went to pot, but I hope to restart it soon. It is called Being Literate, if you want to find it.
I write poetry, so that is an ongoing project that is always there. I write it for myself and for people I love, so I don't publish it. Maybe one day.
What is it about writing that once you start something, a dozen other ideas come streaming in? I already know what my next WiP is going to be, and I'm quite excited about writing it. I'm not going to start until I've nearly finished PTMT though. That would be foolish.
What was it that brought you to Twilight fanfic? What is it that has kept
you here (besides your own writing)
I'm a romantic through and through, so when I read the Twilight saga with my daughter, I fell in love with it. I came to fanfic by accident though. I was having a conversation with my man about 19th-century Austen fanfiction groups, and he told me about online fanfiction communities. I did a Google search for the top ten fanfiction stories, and found a list that was all Twilight, and all out-of-this-world amazing. I haven't left the Twiverse yet!
Do you have a background in writing?
I write, a lot. I made a living writing learning materials for a while when my kids were young. Does that count?
How about your creative self-confidence? By nature writers tend to be a
notoriously insecure lot so how are you finding the online writing
experience?
About self-confidence – I teach people who can't write at all to read and write. I think this gives you a different perspective on your own writing skills. I don't suffer from insecurity in that sense, I'm here to learn as much as I can and am incredibly grateful for the privilege of the online forum.
I'm kind of in love with the online writing experience. I love how there is a community from all around the world sharing their thoughts and dreams and ideas. I have been overwhelmed by the support I have received and the lovely things people have said about my writing.
I have also felt uncomfortable about the amount of anger a few people have expressed towards Edward for his out-of-canon behaviour; but I think that this is an outward expression of anger towards circumstances in readers' lives that have led them to feel the way they do about certain actions; so in a way, it's kind of healthy. I have to remember to not take it personally.
Do you tell your friends and family that you're an online author with a
devoted following, or is this something that you tend to keep for yourself?
First of all, having a following at all is pretty new for me; devoted could be a little premature!
No, no one knows. My husband does, he's reading ;) My kids know that I'm doing it, but they are embarrassed by the whole mum's-obsessed-with-Twilight thing, so we don't talk about it much.
Thing is, I don't want the anticipation of anyone I know's reaction to my words to change what I write. I mean, how could I write about sex if I thought my kids were going to read it; or my FIL?

*blush*
Is there a particular character in your story that you identify with the
most?
Not in this story, no. Usually I identify with Esme most, but I killed her before she could utter a word in PTMT. LOL.
There may be snippets of my character in Bella. My next story is about a Bella that I identify with more.
Which RL author(s) inspires you?
In my opinion this is a good place for Colin LOL
Surprise: Jane Austen. Also Barbara Kingsolver and Philip Pullman.
Did any FF authors inspire you? What was it that had you reading FF and
thinking "I could do this"?
So many FF authors inspire me. If I started listing them I would leave someone out, and that would be bad. There are some amazing authors in the fandom, and they give away their work for free. For free!! I was just so grateful, I wanted to give something back.
Since starting FF, I have barely read a book. I read 'One Day', you know the book that was an international best seller and has been made into a movie? It was so very dull and boring compared to FF. I think I may have been ruined for contemporary fiction for life.
What advice would you give to an aspiring fanfic writer?
Find someone you trust to be your beta, and just go for it.
Plan first, even if you don't follow your plan; and write enough to know what your style is, and that you are going to finish, before you start posting.
And finally, be strong: don't change your story in response to reviews. You can change your writing, but your story is yours. Reviewers are reading one chapter at a time – they can't imagine what is going to happen outside of that chapter. No matter how vociferous they get, they do not have the full knowledge and understanding to change the direction of your tale.
Give us a Random Fact about yourself?
I have a pond in my courtyard which is so covered in green stuff, it looks like grass. Several dogs and some children have fallen in it. Thankfully, none have drowned. It's particularly funny when the visiting dog has just been groomed.
I figure the story will go here eventually
If you could have 15 minutes with anyone alive or dead real or fictional
who would it be and what would you say to them?
It's so hard to pick one person, but I think I'm going to go with Queen Elizabeth 1st. I would ask her how she got all those self-important men to follow her. I imagine her answer would take at least 15 minutes.
What is your FanFic Pet peeve?
Just one? Really? I can't choose between 'tiny hands' (ick); the ubiquitous use of the word 'skank' and the anger towards other women that it encompasses; and the cardboard cut-out Tanya, randomly inserted into a plot to create jealous tension. Especially when said Tanya is referred to as a skank.
What is your Fandom Pet peeve?
I don't like it when people jump on a bandwagon to express anger, which really ought to be directed towards the people in their lives that have hurt them, but that they feel justified in expressing towards innocent parties. If I have a plea, it is to beg Fandom members to never write anything in anger.
Anything else you would like to add?
Thank you – always thank you. I can't adequately express how grateful I am to have read what I've read; found the friends I have found; gained an undreamed of response from readers; shared my thoughts with you here; and just enriched my life.
One last thing – is it okay to do this here? Would you all go and have a look at the Fandomes4ME fundraiser website at http://fandoms4me.blogspot.com ? This is a deeply personal cause – if you peruse the site, you will know why.