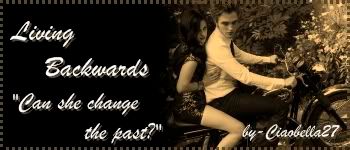 This had to be one of the hardest fought interviews I have ever done. Not because ciaobella is not an agreeable person (can you tell I have been watching a lot of Jane Austen movies in my time away from the net?).
No, she was thrilled to do it.
Here, let me explain this comedy of errors:
I PM'd ciaobella on Twilighted. She very quickly replied, like, within the hour. I had given her all of my contact info which includes my email and two, yes two, Twitter user names. I quickly followed her on Twitter and tried to send her an email. Notice the word tried. I swear, it had nothing to do with my now dead computer or my techno-tardness.
She PM'd me on Twilighted because she and I were not able to see each other's Tweets. Even though, according to Twitter, we were following each other.
So, we finally got our Twitter straightened out and our emails working. We scheduled our interview Skype party and then, the night before, her little one was up all night ill.
That afternoon, she started to feel ill, so we postponed our Skype interview. No biggie, right?
This was, in a way, a good thing. I talked Mimzay into reading this fic (you know Mimzay, she's my chief groupie). Mimzay wanted to be at the interview. So, interview two was scheduled to happen Sunday night.
Then, Sunday morning, my computer blew up…
I swear, the Fates do not want me to talk about this fic.
Yeah, like I am that superstitious.
With the help of Lady Tater and her Tater Tot, we are able to bring this review and rec.
Living Backwards starts in the present. Our gang is getting ready for their ten year high school reunion. Bella has changed since high school. Back then, she was a quiet, shy bookworm. She, Rose and Alice all went to the same high school. The girls did not become friends until college. Bella has, well, a bit of a drinking problem. Her flask, Joan… yes, her sparkly pink flask has a name… she can't go anywhere without it.
In high school, Bella had a crush on… you guessed it… Edward. She checks out his Facebook page and sees a picture of him. He is happy looking and handsome and she is still smitten with him.
For me, this is where things get fuzzy. Remember, I am usually able to reference the fic details.
Somehow, she is knocked out or something (some h00r verify the details for me). She wakes up in the past, in high school. Now think, if you could go back to high school, would you be able to behave in the same way? Bella retains her memory of the present. Something else joins her in the past – her pink flask, Joan.
I'm going to stop retelling the story, and I want you to read the interview I have never seen.
Where did you get the idea for this story? What was your inspiration?
I've been reading Twilight fan fiction for quite awhile but never had any intention of writing. I got the idea to try a Twilight/Peggy Sue Got Married crossover for the Movie Crossover contest earlier this year. It was only supposed to be a one-shot and the more I fleshed out the idea, the more it became its own story. So I held off for bit and decided not to write for the contest. The idea wouldn't go away though so I ended up sitting down and writing one day and wrote the first two chapters.
Is there anything you would want readers to know specifically?
I hate angst. I've learned that not only do I hate reading angst, I hate writing it to. But Living Backwards can't exist without it. Bear with me when it gets rocky. My Bella has a lot to learn.
Oh and you can call her an idiot in your review, just tell me I'm pretty as well. It makes me feel better.
Why should readers read your story?
I would say that the majority of my readers would do things differently in high school and some have only been out of high school for a few years! In high school, everything is life or death. If I say what I think, so and so won't like me or if I don't buy an Esprit tote bag I'll be shunned. It's so hard to be an individual in high school when you're faulted for not going with the crowd.
So imagine going back as an adult who doesn't care whether she has the right book bag or sits at the right table. It'd be pretty refreshing.
So you do anything special while writing a chapter like listen to special music, need total silence, eat a bag of M&Ms, whatever…?
I need complete silence. I write at night when my kids are sleeping. My poor husband has been abandoned and my Tivo is full. I eat mass quantities of Chex Mix when I write angst. I'm a stress eater.
Do you have a soundtrack to your stories?
I give writers who do this so much credit. I mention a lot of music in Living Backwards but I don't have a soundtrack per se. I wish I was better at dressing them. I'd play on Polyvore all day.
What actor/actress do you picture as Edward and Bella?
Rob will always be my Edward because I'm a Rob girl. Bella is usually faceless for me but I tend to think of her as a brunette Isla Fischer. The first picture I saw of Kristen was on that horrible EW cover last summer. I thought she looked like Isla and that's what I pictured as I read the series. Turns out she looks nothing like Isla. Whoops.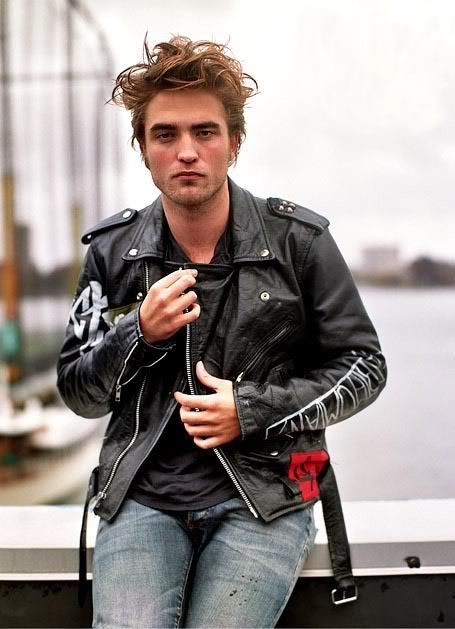 Is the story all planned out or do you do it as a fly by the seat of your pants thing?
I have an outline. I add to it constantly and expand on different aspects. Chapter 18 was not supposed to be the EPOV that you will be getting but I think seeing the events through his point of view will ultimately make a better story and give you some further insight into his character.
Do you have a posting schedule ? If so what is it?
Ug. When I first started, I tried to write a chapter a week. That's just not possible. I have two small kids so I write when I can.
Do you believe in HEA?
I've said this before, I'm a member of this fandom because I'm looking for HEA stories. Preferably smutty ones with kickass plots. HEA is a difficult concept though. Does HEA mean that Bella and Edward ride off into the sunset together? Does it mean that life is perfect? It's different for everyone. You may not love every aspect of Living Backwards but I want these kids to be happy so there will be an HEA.
Any more fic plans in the future?
My plate is full right now. I have another Joan POV to write and I've signed up for The Twilight Gift Exchange. I'm writing a short multi-chapter story for that. Then there's The Fandom Gives Back Auction where I'm committing to write either EPOV prior to Bella's time travel or my alternative ending to Living Backwards. I actually had three.
After that, I have something kind of crazy in mind. More funny, less alcoholism. I'll be drunk but Bella won't be.
What brought you to fanfic? To Twilight?
The stupid EW cover in July 08. I love vampire stories. I've read all of Ann Rice's novels. Twilight sounded interesting. I mentioned the book to my sister, who decided to buy it and read it during her vacation the following week. I figured I'd borrow it from her at some point if she thought it was good. Less than a week later, my sister called me from an airport in Mexico, frantically searching through airport bookstores for New Moon. She insisted on dropping the book off at my house as soon as she got back as long as I promised to start it right away. A week later I had read Twilight, New Moon and Eclipse back to back. I finished Eclipse the week after Breaking Dawn was released.
I didn't hate BD as much as other fans did but I was left feeling a little empty. I learned then that Stephenie Meyer was the ultimate cockblock. I couldn't get my mind off of her "fade to black" honeymoon sequences. So, I started to Google. I found the Lexicon and played around there for a bit before getting directed over to FFn.
My first FF was an AU continuation of Twilight. It was rated M. I knew I was onto something awesome.
What is your background in writing?
I wrote a lot when I was younger. *cough* NKOTB fanfic *cough* I started pursuing it in college, got discouraged and ending up going in a different direction. I haven't written anything in over a decade. I never imagined in a million years that I would be writing like this again. The fact the people read it floors me.
Have you had any Twilight related/ RPattz dreams?
Let's not go there. I'm trying not to be a dirty old woman.
Which character do you see yourself as? And who would you like to see yourself with?
I don't see myself as any of the characters. I think Jasper would be my best friend. I'd watch football and bad reality TV with Emmett. I think I've made my feelings for Edward clear.
Which RL author inspires you? Did any FF authors inspire you?
Before my FF addiction, I read a lot of Jodi Picoult and Anita Shreve. I love Barbara Kingsolver. I haven't read a Book Club selection since I read Twilight. Sad but true.
As for FF authors, I would read in.a.blue.bathrobe describing what she ate for lunch. I love her words. WriteOnTime is smart and witty and I'm so happy she's my friend. Truly admire her work. I admire writers like Itzmegan73 and TallulahBelle who create religions and mythologies. It's hard stuff to pull off but when done well it makes me proud to have my little drunken flask in the same community.
Any recs for us?
Follow me on Twitter. That's all I do. I drop everything for AngryBadgerGirl's The Naked Guy Upstairs. She is one of the funniest writers in the fandom. I think by now my readers know about the love affair I have with my beta, WriteOnTime. Read anything she writes. I might even publish her beta comments on my chapters. They're funnier than my story. My fic bestie, TallulahBelle, writes a little something called Elemental. And lately I have been fangirling all over Lambcullen's Tides, Feathersmmmm's Edward Wallbanger and Farkle's Art School Confidential.
I could go on for days. Seriously.
Anything else you would like to add?
What I love as a reader is the interaction I have with the writer. When an author takes the time to respond to a review, I'm giddy. I laugh and smile and sometimes agonize over every review. But being the mom of two little ones doesn't always leave me time to reply to everyone lately. I am just astounded by the amount of feedback I get each update. I wish I could respond to everyone. Hell, I wish we could all sit down and talk fic all afternoon but I'm not always able to get back to everyone. I'm trying though!
I am in love with my readers. I love chatting with you on Twitter and hearing about your deepest darkest high school secrets. You make this fandom a fun place to hang out in.
Oh and I'll most likely be drunk tweeting from my viewing of New Moon on Saturday the 21st.
----------------------------------------------------------------------------
So, how was it? Remember, I have not seen it.
If you want to laugh and read one of the greatest cherry-poppings ever, read this fic!